People
Faculty
Please click on any image for more information about each faculty member.
International Collaborators
Several international researchers are members of our AirUCI team, including:
National Lab Collaborators
We collaborate closely with researchers at two U.S. National Laboratories: Pacific Northwest National Lab (PNNL) and Lawrence Berkeley National Lab (LBNL). Our National Lab partners include: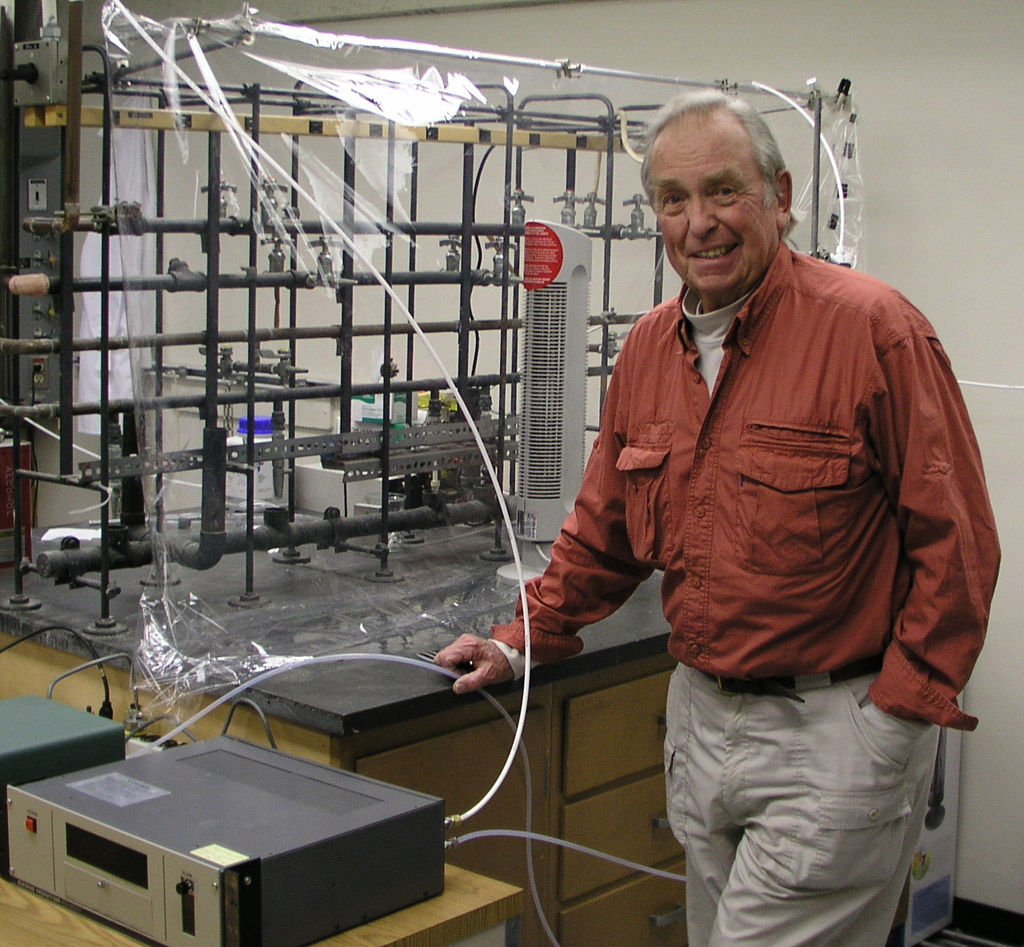 Senior Science Advisor
Dr. James N. Pitts, Jr. is an additional resource for our team. He is Professor Emeritus at the University of California, Riverside, co-founder and past director of the University of California Statewide Air Pollution Research Center, and is currently an AirUCI senior research chemist.
AirUCI Research Team
Much of our work is carried out by our talented research team, comprised of post-doctoral researchers, graduate students, and undergraduate students. Our summer staff includes chemistry teachers at the community college and high school levels who share with their students the latest research results from our projects. In addition, we regularly host visiting researchers from outside institutions as we build on collaborations and conduct joint research projects.
| Postdoctoral Researchers | Research Specialists | Ph.D. Candidates | Undergraduates |
| --- | --- | --- | --- |
| Dr. Haihan Chen | Mr. Michael Ezell (Research Specialist) | Paige Aiona | Jon Alaniz |
| Dr. Christopher Holmes | Dr. Theresa McIntire (Project Scientist) | Kristine Arquero | Nujhat Ali |
| Dr. Carla Kidd | Dr. Veronique Perraud (Project Scientist) | Anthony Babore | YiTien Jou |
| Dr. Julie Lee | Dr. Marc Carreras Sospedra (Project Scientist) | Sandra Blair | Kara Kapnas |
| Dr. Kathryn Perrine | Ms. Rachel Tran (Jr. Specialist) | Matt Dawson | Bryce Loop |
| Dr. Abraham Stern | Dr. Lisa Wingen (Project Scientist) | Michelle Fairhurst | Mariyah Saiduddin |
| Dr. Mychel Varner | | Elizabeth Foreman | Darren Zack |
| Dr. Yue Zhao | | Mallory Hinks | |
| | | Scott Hollingsworth | |
| | | Jeremy Horne | |
| | | Safa Khan | |
| | | Jayde Kwon | |
| | | Yu Liu | |
| | | Kjertan Lyster | |
| | | Amanda MacMillan | |
| | | Michael Makowski | |
| | | Kurtis Malecha | |
| | | Krista Parry | |
| | | Sara Rahiminejad | |
| | | Paolo Reyes | |
| | | Dian Romonosky | |
| | | Benjamin Toulson | |
| | | Marijke Van Spyk | |
| | | Jordan Vincent | |
| | | | |
Support Staff