People
Faculty
Click on any image for more information about each faculty member.
Donald R. Blake

Jacob "Jack"

Brouwer

Annmarie G. Carlton

Donald

Dabdub

Steven J. Davis

Ralph

Delfino

Michael B. Dennin

Rufus

Edwards

Ceila

Faiola

Barbara J. Finlayson-Pitts

Filipp U. Furche

R. Benny Gerber

Alex

Guenther

John C. Hemminger

Saewung

Kim

Michael T. Kleinman

Craig

Murray

Sergey

Nizkorodov

Michael J. Prather

Eric S. Saltzman

G. Scott Samuelsen

Manabu

Shiraiwa

James N. Smith

Douglas C. Tobias

Jun

Wu
International Collaborators
Noted international researchers are members of our AirUCI team, including:
U.S. Collaborators
National Lab and Agency Collaborators
We collaborate closely with researchers at U.S. agencies and two U.S. National Laboratories: Pacific Northwest National Lab (PNNL) and Lawrence Berkeley National Lab (LBNL). Our National Lab and agency partners include: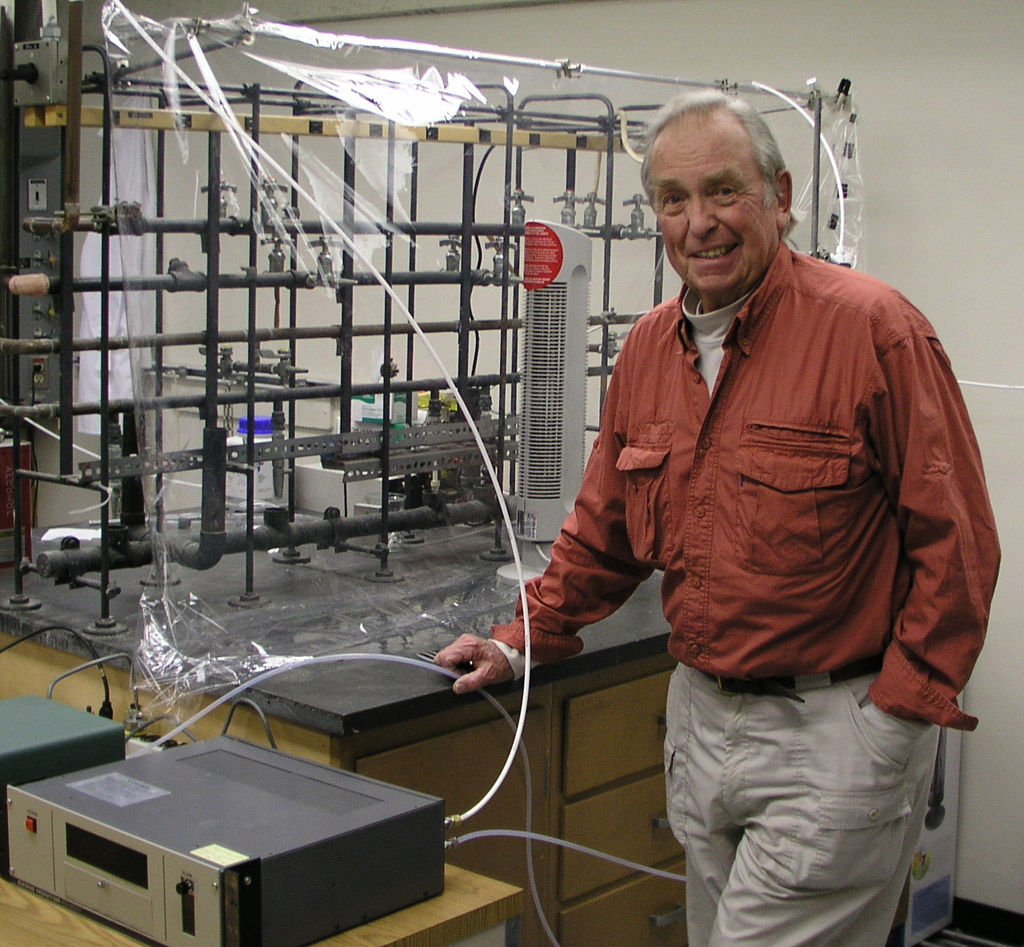 Fulbright Scholar
Dr. Jonathan Abbatt of the University of Toronto was the inaugural Fulbright Scholar at the AirUCI Institute from January - April, 2018. Prof. Hind al-Abadleh of Wilfred Laurier University will join us from January through April, 2019 and, like Dr. Abbatt, will conduct collaborative research projects and teach an upper-level Chemistry course.
Senior Science Advisor
Dr. James N. Pitts, Jr. was an additional resource for our team from AirUCI's inception until his death on June 19, 2014 at the age of 93. He was Professor Emeritus at the University of California, Riverside, co-founder and past director of the University of California Statewide Air Pollution Research Center, and was an AirUCI senior research chemist until the end. He is greatly missed. Visit the Jim Pitts memorial page
Read the Spectrum article about Jim's career

AirUCI Research Team
Much of our work is carried out by our talented research team, comprised of postdoctoral researchers, graduate students, and undergraduate students. Our summer staff often includes chemistry teachers at the community college and high school levels who share with their students the latest research results from our projects. In addition, we regularly host visiting researchers from outside institutions as we build on collaborations and conduct joint research projects.
| Postdoctoral Researchers | Research Specialists | Ph.D. Candidates | Undergraduates |
| --- | --- | --- | --- |
| Dr. Ting Fang | Ms. Nujhat Ali (Jr. Specialist) | Jonathon Babila | Suki Gu |
| Dr. Djawhar Ferrah | Mr. Michael Ezell (Sr. Research Specialist) | Vahe Baboomian | Yiran Gu |
| Dr. Christopher Holmes | Dr. Alfredo Frietes (Project Scientist) | Jared Bruce | Syed Muhammad Hassan |
| Dr. Pascale Lakey | Dr. Michael Lawler (Project Scientist) | Sabrina Chee | Andre Paradise |
| Dr. Ying Li | Dr. Theresa McIntire (Project Scientist) | Amy Christiansen | |
| Dr. Nanna Myllys | Dr. Veronique Perraud (Project Scientist) | Ryan Dempsey | |
| Dr. Weihong Wang | Dr. Roger Seco (Project Scientist) | Wing-Sy DeRieux | |
| Dr. Jing Xu | Dr. Marc Carreras-Sospedra (Research Scientist) | Danielle Draper | |
| Dr. Shupeng Zhu | Ms. Rachel Tran (Jr. Specialist) | Lauren Fleming | |
| | Dr. Lisa Wingen (Project Scientist) | Hayley Glicker | |
| | | Amanda Haines | |
| | | Jeremy Horne | |
| | | Stacey Hughes | |
| | | Brian Hwang | |
| | | Kyle Kabasares | |
| | | Kara Kapnas | |
| | | Alexandra Klodt | |
| | | Julia Montoya-Aguilera | |
| | | Fabian Muresan | |
| | | Hoang Nguyen | |
| | | Krista Parry | |
| | | Saleh Riahi | |
| | | Andrea Rohrbacher | |
| | | Natalie Smith | |
| | | Sara Tadayon | |
| | | Allison Vander Wall | |
| | | | |
Support Staff
Melissa Sweet, AirUCI Project Coordinator
Victoria Stewart-Goss, AirUCI Administrative Assistant