Andrea De Vizcaya Ruiz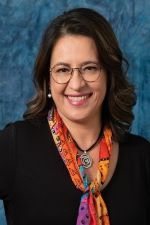 Associate Professor, Department of Environmental and Occupational Health at UC Irvine
Ph.D. in Toxicology from the School of Biological Sciences of the University of Surrey, England in 2000; DVM from National Autonomous University of Mexico (UNAM) 1995
Prof. De Vizcaya-Ruiz joined the faculty at UCI's Department of Environmental and Occupational Health in January, 2022 after collaborating with AirUCI faculty on several research projects. After conducting postdoctoral studies in Air Pollution Toxicology at the Center for Research and Advanced Studies (Cinvestav) in Mexico City, Prof. De Vizcaya-Ruiz taught preclinical toxicology and toxicology mechanisms in the M.Sc. and Ph.D. Toxicology Program at Cinvestav for more than 15 years. She designed and taught preclinical inhalation toxicology courses for industry and regulation agencies in Mexico. Her research has centered on the experimental effects of particulate matter, using in vitro and in vivo models, specifically, studying the tissue injury inflammatory and oxidative stress underlying mechanisms. Some of her work extends to nanotoxicology and nano safety. She has more than 50 peer-reviewed publications, in addition to 10 book chapters and short reviews on particulate matter toxicology, non-target organs effects in inhalation toxicology and nanomaterials toxicity. Dr. De Vizcaya-Ruiz has active interdisciplinary collaborations with other research groups in Mexico, the Netherlands, Canada, and the U.S.
She has participated as an advisor for the Mexican Ministry of Health, the Mexican Ministry of Environment and the Mexico City Government, establishing guidelines and indices on air pollution and actively promoting a regulatory initiative for nano safety in Mexico. She currently serves as a member of the Editorial Board of Particle and Fibre Toxicology. She is an active member of the U.S. Society of Toxicology and the Mexican Society of Toxicology.
Research Interests:
Inhalation toxicology by studying inflammation, advanced materials toxicology, tissue injury, pulmonary disease, and other diseases beyond the lung, including cardiovascular, renal dysfunction, and in utero toxicity.
Selected Honors and Awards:
Young Investigator Award; Society of Toxicology USA; 2011
Young Scientist of the Year Award; EUROTOX; Oslo, Norway; 1999