Prof. Sergey Nizkorodov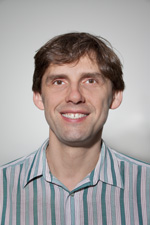 Co-Director, AirUCI Institute.  Professor of Chemistry [Ph.D. in Chemistry from University of Basel, Switzerland]. Prof. Nizkorodov brings expertise in fundamental photochemistry of atmospherically relevant systems to the ORU, including that of secondary organic aerosols.
Dr. Nizkorodov's research focuses on chemical processes taking place in atmospheric particulate matter. The majority of his group members work on photochemical aging of secondary organic aerosol. The goal of this project is to understand how solar radiation affects physical, chemical, and toxicological properties of organic particles. Another area of interest is chemistry of ozone and particulate matter in indoor environments. The current project focuses on indoor ozone and particle generation by ionization and ozonation air purifiers. This project is of great practical importance for developing legislative regulation for ozone-emitting appliances sold to the general public. Due to the large public interest in this topic, Prof. Nizkorodov has been the subject of several articles and TV interviews.
The third area of interest is in hygroscopic properties of aerosolized nanoparticles. The goal of this project is to develop fundamental understanding of phase transitions in nanoparticles containing variable amounts (0-100%) of sur face active organic molecules.
Research Interests:
Atmospheric Chemistry of Organic Aerosols
Selected Honors and Awards:
International Journal Student Paper Award from Elsevier Science and Finnigan MAT (1996)
Camille and Henry Dreyfus Postdoctoral Scholarship (2000)
Research Corporation Research Innovation Award (2003)
Coblentz Award for research achievements in vibrational spectroscopy (2005)
UCI School of Physical Sciences Award for Outstanding Contributions to Undergraduate Education (2006)
Camille Dreyfus Teacher-Scholar Award (2007)
UCI Chancellor's Award for Excellence in Fostering Undergraduate Research (2012)
AGU Ascent Award (2013)
Elected Fellow of AAAS (2015)
Fulbright Scholarship, University of Eastern Finland (2016-17)
UCI Academic Senate Daniel G. Aldrich, Jr. Distinguished University Service Award, 2021