Prof. Jun Wu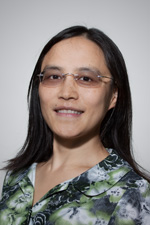 Professor in Public Health
Ph.D. in Environmental Health from University of California, Los Angeles.
Professor Wu's main research interests are air pollution exposure assessment and air pollution epidemiology in reproductive health.  The overarching goal of her research is to more accurately characterize air pollutant exposure and examine the impact of air pollution exposure on adverse health outcomes. 
Prof. Wu's research in exposure assessment focuses on development and application of models to improve population and individual exposure assessment for air pollutants using geographical information system techniques and atmospheric dispersion and other modeling.  Previous research in exposure assessment has included:
development of an individual exposure model to retrospectively quantify vehicle-related air pollution exposures for individual children in a cohort study
quantification of the population exposure to naphthalene for the Southern California
development of methods to estimate particulate matter exposures before, during and after the 2003 Southern California wildfires
development of spatial-temporal models using GIS and advanced statistical methods for traffic-related pollutants
Prof. Wu's research in environmental epidemiology focuses on the impact of air pollution on adverse pregnancy outcomes.  Previous health-related research included studies that linked traffic-related air pollution with preeclampsia and preterm births and biomarker-based polycyclic aromatic hydrocarbon exposure with missed abortion during early pregnancy. 
Research Interests:
Air pollution exposure assessment
Air pollution epidemiology
Selected Honors and Awards:
Health Effect Institute Walter A. Rosenblith New Investigator Award, 2010
International Society of Exposure Analysis Young Investigator Award, 2005
Samuel J. Tibbitts Fellowship, School of Public Health, UCLA, 2003
Chancellor's Fellowship, UCLA, 2000, 2003
PWEA Student Research Award, Pennsylvania Water Environment Association, 2000