Beyond the Tailpipe
In general, the focus of research in the area of air pollution has been largely on tailpipe and smokestack emissions.  While the AirUCI Institute is renowned for our expertise in air pollution and climate change studies, we have expanded our research boundaries to include the study of airborne particles and gases generated by vehicle tires and brakes and their effects on human health.  We are taking an inclusive approach to this issue by leveraging multiple departments and faculty research groups within AirUCI and joining efforts in new ways.
How did we get Beyond the Tailpipe?
In September 2021, a group of AirUCI faculty were awarded a $1.93 million grant to study the gases and microscopic particles generated by automobile brakes and tires and their effects on air quality and human health.  This was a unique opportunity made possible by the 2016 settlement paid to the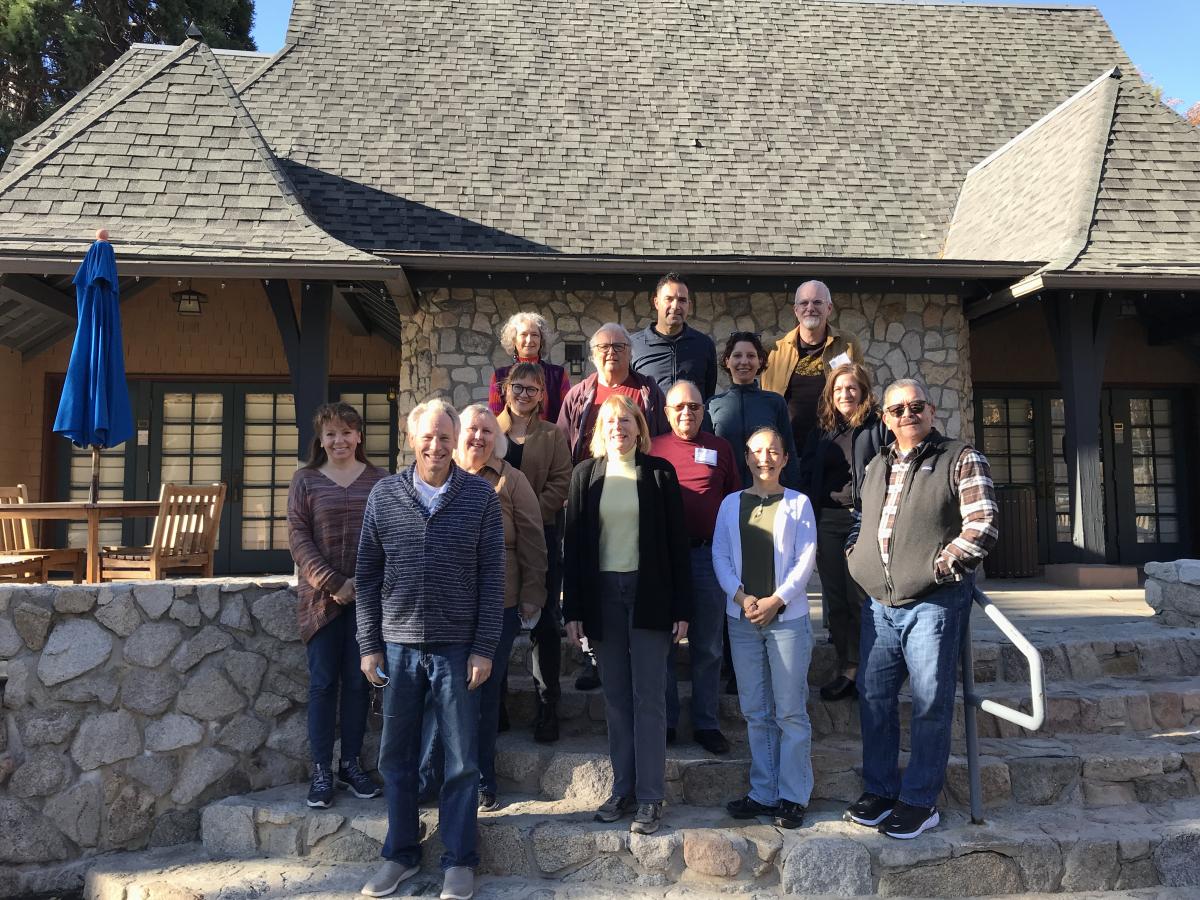 California Department of Justice by the Volkswagen Corporation for falsifying their tailpipe emissions data.  $10 million were made available for research into air pollution, and the AirUCI team received nearly 20% of those state research funds.
Shown here are many of the DOJ project team at the initial planning meeting held in September 2021 at the Lake Arrowhead Lodge. We have since added more faculty and researchers to the group.
The proposal was entitled, "Beyond the Tailpipe: Air Quality and Health Impacts of Non-Tailpipe Vehicle Associated Pollutants Today and Tomorrow".  Led by Prof. Barbara Finlayson-Pitts, co-Director of the AirUCI Institute, faculty from the departments of Chemistry, Earth System Science, Environmental and Occupational Health and Anthropology, are collaborating on this two-year project.  In addition to the 13 faculty, the research team includes Project Scientists and students as well as staff from the Madison Park Neighborhood Association, a non-profit environmental justice group in Santa Ana that is a sub-contractor assisting with research along with facilitating community outreach and involvement.
In fact, the inclusion of MPNA is one of the distinctive factors taking this project beyond the realms of science and medicine, broadening the focus to include real-world effects on a local city made up largely of lower income residents and immigrants that has previously been identified as an underserved community.  It is unusual to have collaborations on a project with such disparate departments as are included in this effort, and the addition of a neighborhood association is even more unique.  As an organization focused on environmental justice, MPNA had already been working with AirUCI faculty Kim and Michael Fortun in UCI's Anthropology Department to determine the effects of air pollution on the residents of Santa Ana, and was therefore a natural fit to fill this role.
While the rapid adoption of electric vehicles will reduce tailpipe emissions, these tire and brake particles will continue to be a health risk into the future.  Our work to obtain and analyze data related to these particles will help address the public health response to current exposure and should apply to any heavily-trafficked location.  In addition, our goal is to provide the necessary information to lawmakers and stakeholders as they form mitigation strategies for these particles.  California Department of Justice announcement
We invite you to explore our team, our events, our research, and our publications.