Prof. G. Scott Samuelsen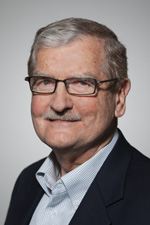 Professor of Mechanical, Aerospace, and Environmental Engineering at the University of California Irvine, Director of the Advanced Power and Energy Program (APEP), Director of the National Fuel Cell Research Center (NFCRC)
Professor Samuelsen brings to the ORU his expertise in energy generation, from fossil fuel combustion to advanced fuel cell technology, and their impacts on the environment.  He received his Ph.D. in Mechanical Engineering from the University of California, Berkeley.  
In addition to his duties as Director of APEP and NFCRC on campus, he also hosts the Secretariat of the Pacific Rim Consortium on Energy, Combustion, and the Environment (PARCON).
His research is focused on fuel cells and fuel cell systems for stationary applications as well as the hydrogen infrastructure for mobile hydrogen-fueled combustion and fuel cell vehicles.  He directs anchor research on:
advanced coal and natural gas power plants for the co-production of electricity and hydrogen for the U.S. Department of Energy (DOE)
distributed generation and information technology research for the U.S. Department of Defense (DoD) in support of energyefficient and environmentally-responsible power generation
hydrogen refueling research for the South Coast Air Quality Management District
advanced energy systems research for the California Energy Commission
hydrogen- fueled vehicle market and hydrogen infrastructure research with the University of California Institute for Transportation Studies
In December 2002, Professor Samuelsen directed the introduction of the first commercial hydrogen fuel cell vehicle into the United States and manages today the public use of three fuel cell hybrid vehicles (FCHVs) as a platform to understand the challenges associated with this new paradigm.  In January 2003, he directed the commissioning of a hydrogen refueling station on campus, and will oversees the installation of public refueling stations scheduled for installation in multiple Orange County cities.  He co-Chairs the California Stationary Fuel Cell Collaborative, and leads the Collaborative standing committee on the stationary fuel cell and hydrogen vehicle interface.  His energy expertise is based on forty years of combustion research working with strategic alliances involving industry with applications to gas turbine propulsion, gas turbine electronic power generation, and combustion distributed generation resources.
In August, 2011, the NFCRC team developed an exciting and unique fuel cell generator in conjunction with the Orange County Sanitation District in Fountain Valley, California. Other private sector collaborators on the project were FuelCell Energy, Inc. and Air Products.  The apparatus simultaneously and continuously converts gases that are created in wastewater digesters into hydrogen, which is then used for zero-emission vehicle fuel, electricity, and heat.  This is an important breakthrough in clean energy technology that promises to lead to cleaner air and less reliance on fossil fuels.
With the South Coast Air Quality Management District (AQMD), he is Principal Investigator for consulting on site selection for the deployment of 207 microturbine generators (MTGs) in the South Coast Air Basin (SoCAB), as well as design and implementation of an Information Technology (IT) infrastructure to monitor and potentially dispatch the MTGs over the 33 sites.